VRF
Systems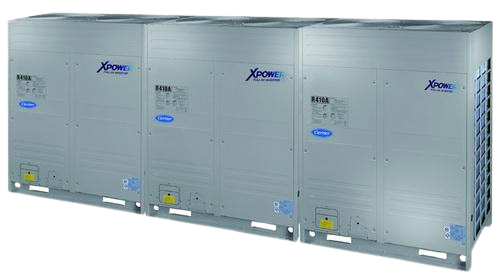 Carrier maximum VRF capacity per circuit : 90 HP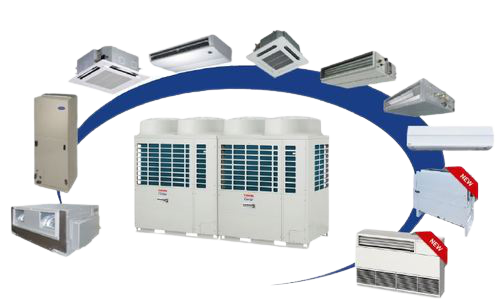 Toshiba maximum VRF capacity per circuit : 60 HP
Toshiba and Carrier have a global joint venture since 1999 for manufacture and sale of Toshiba branded air conditioning products. As part of this initiative, Carrier Air Conditioning & Refrigeration Limited acts as the sole distributor in India for Toshiba branded air conditioning products.
For the past 30 years, Toshiba has invested heavily and worked hard to maintain its position as a leader in the air conditioning market and the quality of products continue to differentiate Toshiba from other manufacturers.
Toshiba is one of the first brands to bring the inverter revolution in India and has long been respected for its technologically advanced, energy-efficient air conditioning solutions. With continuous product innovation and channel partners, Toshiba has been growing rapidly in the air conditioning business.
1930 Developed Japan's first Hermetic compressor for Refrigeration use.
1935 Started manufacturing Air Conditioners.
1961 Introduced the world's first split Air Conditioners.
1978 Introduced the world's first microprocessor controlled Air Conditioners.
1981 Introduced the world's first residential Inverter Air Conditioners.
1993 Introduced the world's first twin – rotary Inverter Air Conditioners.
1998 Introduced Japan's first R410A (eco-friendly) refrigerant based residential Air Conditioners.
2001 Introduced Japan's first R410a (eco-friendly) refrigerant based Light Commercial Air Conditioners.
Toshiba delivers technology and products remarkable for their innovation and artistry – contributing to a safer, more comfortable, more productive life. We bring together the spirit of innovation with our passion and conviction to shape the future and help protect the global environment – our shared heritage. We foster close relationships, rooted in trust and respect, with our customers, business partners and communities around the world.
ONE COMPANY
TONS OF CAPACITY
With a wide range of types, capacities and sustainable refrigerant options, Carrier is a leader in chiller technology. In fact, we always have been. From the invention of the first centrifugal chiller in 1922 to today's AquaEdge™ 23XRV – the world's leading efficiency screw chiller – Carrier has consistently led the way in efficient, reliable chiller technology. Carrier chillers have quite versatile variants like modular scroll type, screw and centrifugal range of chillers.